Celebrate our planet on Earth Day and beyond through NASA's GLOBE Observer citizen science project!
Join 100 participating libraries across the nation in celebrating Earth Day!
Would you like to help them organize the event for their community? To find a library in your area, zoom in on the interactive map below… then click on a drop pin for contact information.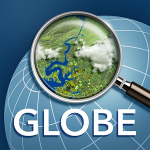 GLOBE Observer cloud observations are helping NASA scientists understand clouds from below (the ground) and above (from space). Clouds play an important role in transferring energy from the Sun to different parts of the Earth system. Because clouds can change rapidly, scientists need frequent observations from citizen scientists.
Host an Earth Day event to observe clouds using the GLOBE Observer app on April 22, 2017. Participating libraries will receive a packet of Earth Day programming materials (on a first-come, first-served basis).
Event FAQs
The GLOBE Observer app and resources are evergreen – they can be used any time of the year, not just on Earth Day. While there is extra value getting a large number of people observing clouds on one day, it is important for citizen scientists to observe regularly and beyond Earth Day.
Partnership Opportunities
Reach out to NASA Subject Matter Experts to collaborate on your programs! Invite them to serve as program speakers for adult programs or help you facilitate hands-on activities and talk about science and exploration with youth.  These Subject Matter Experts are STEM-focused professionals from NASA-funded centers and institutions, as well as researchers and NASA volunteers within each region that can collaborate on programs.
Promotional Materials
– View Press Release Template
– View PSA Template
– View Community Letter Template
– View Media Alert Template
Below are some sample text templates your library can customize to go with shareables below.
"Celebrate Earth Day at (LIBRARY NAME, DATE, TIME) and contribute to a NASA citizen science project!"  (LINK TO LIBRARY PAGE WITH DETAILS)
"Bring your Smart Phone or Tablet to (LIBRARY NAME DATE, TIME) and participate in GLOBE Observer" (LINK TO LIBRARY PAGE WITH DETAILS)
"Citizen science has been around a long time, but NASA's GLOBE Observer app allows you to do it in a cool new way.  Join us on Earth Day, April 22, at (LIBRARY NAME AND TIME) to learn how!"  (LINK TO LIBRARY PAGE WITH DETAILS)
| | |
| --- | --- |
| | |
| GLOBE Observer App Promo Image | GLOBE Observer App Promo Video |
Click the thumbnail images to view a larger image in a new browser window. And then right-click on the image (Save image as…) to save the image to your computer.
 
Caption: NASA's GLOBE Observer project is engaging the public in observing sky conditions using an app for smart phones and tablets to photograph clouds, record sky observations and compare them with NASA satellite images, and submit their observations to an international citizen science project.
Caption: NASA Earth Observatory image using Landsat data from the U.S. Geological Survey.
Required Credit: Joshua Stevens
Caption: This satellite image (GOES-16, taken January 15, 2017) shows North and South America and the surrounding oceans and clouds above.
Credit: NOAA/NASA
Caption: GOES-16 captured this view of the moon, as it looks across the Pacific Northwest on Jan. 15. As with earlier GOES spacecraft, GOES-16 will use the moon for calibration.
Credit: NOAA/NASA
Caption: View of the Earth's fragile atmosphere, photographed by a weather balloon at an altitude of almost 60,000 feet.
Required credit: Image courtesy of NOAA
Caption: Planet Earth, as photographed by Apollo astronauts.
Required credit: Image courtesy of NASA
Caption: Hurricane Katrina as it makes landfall over the United States in 2005.
Required credit: Image courtesy of the International Space Station
Caption: A tornado touches down near a town in Kansas.
Required credit: Image courtesy of USGS
Required credit: GLOBE Observer
Required credit: GLOBE Observer
Online and Physical Earth Day Displays
Below are resources for creating a display – in your library and on your website – to engage patrons in Earth Day.
Cloudscape
Engage library visitors in making their own exhibit through creating a model of the different types of clouds and the atmospheric levels at which the clouds exist. This Elementary GLOBE activity could be adapted to be completed as a large scale daily mural to which patrons can contribute or could be completed as an individual activity as part of a STEAM activity.
GLOBE Observer Clouds: Why Observe?
In this short video, NASA scientist Jessica Taylor explains the role of clouds in Earth's climate, how NASA is studying clouds from space, and the importance of cloud observations from citizen scientists to complement NASA science.
NASA's Earth Minute: Cloudy Forecast
"NASA's Earth Minute" is a series of animated white-board videos for students of all ages explaining key concepts about Earth science, missions and climate change. This short video (1:23) explains how clouds are complicated when it comes to climate science, as they both warm and cool Earth. NASA is studying these atmospheric masses of condensed water vapor with satellites and aircraft, and you can, too, with a citizen science app: http://observer.globe.gov.
Real World: Citizen Science
What are citizen scientists? Why is their work so important to NASA? Join Dr. Michelle Thaller in this short video (4:28) as she explains how the general public, using scientific protocols, careful observations and accurate measurements, can help NASA make exciting new discoveries. Find out how you can be a citizen scientist today.
Reading the ABCs from Space
See all 26 letters of the alphabet (as well as a pound and at sign) in clouds and landforms observed from space by NASA satellite imagery and astronaut photography. Credit: NASA's Goddard Space Flight Center
NASA Earth Observing Fleet 
See how the Earth Observing fleet of satellites crisscrosses the globe with their observations. Credit: NASA's Scientific Visualization Studio
Click button to view PDF file in another browser window. Right-click on the button (Save link as…) to save the exhibit poster to your computer.
Measuring Earth's Changes
What Makes Weather?
Wild Weather
Do You Know that Clouds Have Names?
In this science-based storybook, children learn that clouds have different names based on their appearance and position in the atmospheric column. Contrails, or condensation trails, are also discussed. The book is one of a series in the Elementary GLOBE unit designed to introduce students to the study of Earth system science.

Join a NASA scientist and educators to learn why observing clouds and sky conditions is important to NASA, how citizen science cloud observations contribute to NASA science, how to make and contribute sky observations through the easy-to-use GLOBE Observer app, and resources to support library programming on Earth day and beyond. (pw: star)
View Presentation Slides:
– Step-by-step Tips on the GLOBE Observer App
– Programming Ideas
– Cloud Science
Programming Resources
Library patrons can contribute to NASA Earth science by downloading the free GLOBE Observer app, observing the sky, and contributing their observations to this international program.
When you first open the app, you will need to create a login by entering an email address and an optional referral code, and the system will email you a password. It is important that you, and your library patrons, use the referral code earth2017 when first setting up your login so NASA can make a map of all the contributions from the STAR_Net community.
Weather and Citizen Science
Explore our planet by taking a close look at the clouds and weather that are part of everyday life.
Note: Please use Google Chrome or Microsoft Edge to view these interactive websites.
Cloud Identification Key
This interactive web-based tool asks a series of questions to help you narrow down the type of cloud you are observing. It can be used both for practice and in the field to identify clouds. (Or, provide a printed version of this tool:  the Cloud Identification Guide.)
This interactive web-based tool allows you to calibrate your eye by practicing cloud cover estimation using images on the computer.
Cloud Teller 
Based on the popular fortune-telling game, this printable interactive craft and game familiarizes learners with cloud vocabulary and varying degrees of cloud cover.
Cloud Identification Chart
The GLOBE Program Cloud Identification Chart combines handy photos of various cloud types with tips on observation basics.
Cloud Identification Guide
This handout provides simple, step-by-step instructions for identifying cloud types. (Or, direct patrons to an interactive, web-based version of this guide: Cloud Identification Key.)
Cloud Viewer
Print the University Corporation for Atmospheric Research's Cloud Viewer, then cut out a "window" in the center of the page. Use the viewer to match labelled images to what you see in the sky outside!
GLOBE Observer Card
Provide patrons with a postcard with the URL to download the GLOBE Observer app.
Here is a collection of articles from NASA which give more information about clouds. This might be copied and given to patrons to give them additional information, or used to generate some articles to read for a Book Club discussion, or read by librarians hosting programs to give them more in depth information about how and why NASA studies clouds.
Additional Cloud Observation Resources
Simple Cloud Tutorial
PDF version of the in-app tutorial, providing information to make an observation.
NOVA Cloud Lab
Practice your cloud classification skills by clicking cloud images in the NOVA Cloud Lab Gallery.  Select the cloud type from the drop down menu and click submit.  Were you correct?
GLOBE Clouds eTraining
Developed for teachers, this in-depth tutorial explains what clouds are and how they form; why clouds are an important element of the Earth system; and explain why cloud observations are important for understanding our changing Earth system.
A Celebration of Clouds From Space
By Kathryn Hansen
Gain new perspectives on clouds as seen from space with this informative article.